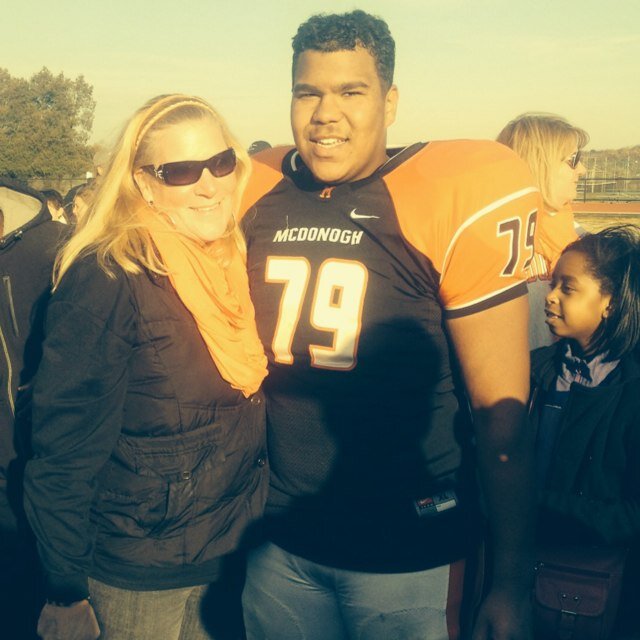 The Maryland Terrapins picked up a very solid commitment yesterday from three-star OT Ellis McKennie. McKennie, a local McDonogh School prospect from Owings Mills, Maryland, becomes the third player from the class of 2015 to join the Terrapins. He will be coming to Maryland along with running back Deltron Sands and fellow lineman E.J. Donahue so far.
McKennie is the 9th rated player in the state of Maryland according to 247sports.com and represents another local grab from the McDonogh School. Maryland's 2014 class received a commitment from McDonogh wide receiver Josh Woods, and the Terrapins have had defensive lineman Roman Braglio on the team since 2012. NFL receiver and former Terp Darrius Heyward-Bey was also a product of the school.
McKennie is coming off a season that saw his team go 11-0 and be ranked the 2nd best team in the state of Maryland, and should bring with him a wealth of quality football playing experience.
When did you realize Maryland was the school for you?
McKennie: "I think I knew Maryland was the play for a little while now. It was just me coming to the realization that it was the place and making the actual commitment. Me and I parents talked about it this weekend and I knew it was time, and today just happened to be the day."
What was the biggest factor that made you decide on Maryland?
McKennie: "I think it was either between being so close to home so my parents can see me play or academically how it was going to help me after football."
Do you have an area of interest that you want to study?
McKennie: "I want to study law after college so, it being so close to DC and close to Baltimore, it's a very good location for what I want to do."
Who recruited you the hardest?
McKennie: "Coach Dudzinski was my recruiter."
Are you familiar with anyone else on the team?
McKennie: "Well Josh Woods went to my school so I mean I talk to Josh. Roman Braglio went too but he was a senior when I was a freshman."
What are some thing you think you need to work on before heading to College Park?
McKennie: "I think my flexibility and definitely my conditioning"
————–
Be sure to welcome Ellis McKennie to the Terp family with a follow on Twitter @emck_cubed97!
Tags: Ellis McKennie Maryland Terrapins Terps Terps Football