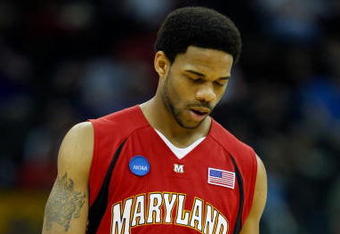 Maryland men's basketball team played their first game of the season Friday night, an exhibition against the Division II Northwood (Fl.) Seahawks, and eeked out an 89-84 win at the Comcast Center.
Terrell Stoglin had 23 points but had five turnovers, Sean Mosley scored 20 with five turnovers of his own, and Nick Faust scored 14 points (including a halftime buzzer beater from about 55 feet out) in his Maryland debut before being sidelined with an injury early into the second half.
Also making their debuts for the Terps were center Alex Len and walk-on guard Jonathan Thomas, the only one of the walk-ons to play. Len finished with four points, six rebounds and a block but impressed with his athleticism, and Thomas had an assist and a rebound with two turnovers in seven minutes of play.
Ashton Pankey was probably the most impressive Terp on the day, scoring 12 points with five rebounds and showing a good feel for the inside game early on. Mychal Parker got plenty of playing time as well, and finished with four points, five rebounds and four assists.
Even with the turnovers, Mosley looked good, making good passes inside and showing some scoring touch from the outside (making two of three three point attempts). Stoglin struggled with the ball-handling ability, and missed his first six shots before catching fire later in the game.
James Padgett got the start at center for Maryland, and nearly had a double-double. The junior finished with ten points and nine rebounds. Berend Weijs filled out the rotation, and had two points with two rebounds and two blocks on the night.
Stoglin and Faust each hit four of eight three point attempts to add to Mosley's 2/3 line (and Parker's o-1), giving the Terps a 50% shooting percentage from long range on the night, a significant improvement from last season's struggles.
The Terps did struggle with foul trouble inside and the aforementioned turnovers, however. Weijs was called for four fouls in eleven minutes of play, and Maryland had four players with at least three fouls on the night. The Terps turned the ball over 23 times to Northwood's 11.
Jonathan Dunn finished the night with 34 points for the Seahawks, and got to the line ten times. Patrick Horstmann added 21 of his own, and Noah Keeton scored 19.
It was a game that was much closer than Maryland fans may have liked, but after seeing top-25 schools in Arizona and West Virginia fall to D-II schools in exhibitions this year, it's hard to complain too much about a win.
The injury to Faust didn't seem too serious, but we should know more pretty shortly.