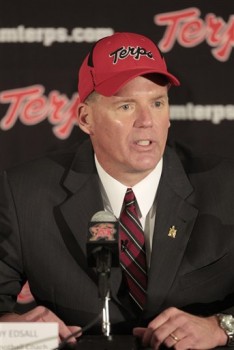 On December 18, 2010, Maryland announced it would buy out the final year of Ralph Friedgen's contract. A few days earlier, offensive coordinator and head-coach-in-waiting James Franklin accepted the head coaching position at Vanderbilt. On January 2, they hired Randy Edsall as their new head coach. Since then, 17 players have left Maryland's football program, leaving the Terps with possible depth issues headed into the fall.
First, there were the expected departures from the 2011 class – something that will happen with every head coaching change. Jimmy Stewart and Larry Mazyck left with Franklin to Vanderbilt, Rodman Noel went to NC State, Ryan Malleck went to Virginia Tech, Dontez Tyler went to Old Dominion, and Delonte Morton went…well, no one really knows that one, but assume prep school or JuCo. However, Edsall was more than able to make up for those losses with the additions of Quinton Jefferson, Keith Bowers, Nathan Renfro, Justus Pickett, and the retaining of Jeremiah Hendy. All five of those prospects are better than the six that left, so that's a good start.
However, the ten players who left that were already on the Maryland roster will hurt quite a bit. The list as of now stands at two defensive linemen (Ian Davidson and Derrek Drummond), two quarterbacks (Jamarr Robinson and Tyler Smith), two fullbacks (Taylor Watson and Haroon Brown), two linebackers (Ryan Donohue and Ben Pooler), a running back (Gary Douglas), a tight end (Lansford Watson) and a defensive back (Travis Hawkins).
Of those previous ten players, six (Drummond, both Watsons, Brown, Pooler and Hawkins) would have likely competed for a starting spot while another (Donohue) would have been the first linebacker off the bench.
A good amount of those guys were fifth-year seniors, falling in line with Edsall's policy of the fifth year not being a guarantee. A good amount of them (Donohue, Smith, and Hawkins immediately come to mind) were younger and had a future in the program, and those are the ones that hurt the most.
Let's take a longer look after the jump.
Luckily for the Terps, the offensive line was left mostly untouched. The only player they lost was incoming freshman Larry Mazyck, a massive tackle who was extremely raw. A player on Maryland's team who played against Mazyck in high school and will remain nameless told me the kid wasn't very good, and that's putting what he said very nicely.
Instead, the offensive line is probably Maryland's strong area in terms of depth (that's a weird thought, innit?), with seven guys returning who started games last year. For those keeping score at home, those seven are Justin Gilbert, Pete White, Andrew Gonnella, R.J. Dill, Justin Lewis, Bennett Fulper, and Pete DeSouza (who is still quite a bit away from fully recovering from his scooter accident). Along with those seven, there's Max Garcia, a very promising youngster, and Josh Cary, the most likely starter at right guard. Offensive line is not an issue for Maryland.
Once you get to the skill positions, you can see that the departures have a chance to take a toll (although it pales in comparison to the defense, which we'll get to soon).
Danny O'Brien is Maryland's quarterback for now and for the immediate future, there's no question about that. C.J. Brown is Maryland's backup for now and for the immediate future, there's no question about that. But both were injured at some point last year (Brown missed nearly the entire season), and luckily DOB was able to play through it. But if by some reason both of them get hurt again, you're left with walk-on freshman Troy Jones as your only quarterback instead of the extremely-talented Tyler Smith or the experienced Jamarr Robinson (unless they decide to move Devin Burns back over or try Anthony Green on for size).
At running back, the departure of Douglas doesn't hurt too bad, but the Terps are again in not as good of a place as they might like to be. With Davin Meggett and D.J. Adams up top, they've got a good, experienced pair of running backs, but after them comes converted defensive back and redshirt freshman Jeremiah Wilson (who was a star running back in high school) and two more converted defensive backs, walk-ons Kwabena Ofori and Desmond Haynes. Coming into the program this fall will be Brandon Ross and Justus Pickett, so Maryland will have some options to play with there.
Fullback might be the position hit hardest here. Taylor Watson and Haroon Brown were supposed to duke it out for the starting spot, as they did last year, but both left the program. The Terps now only have two fullbacks on the roster – redshirt freshman Rahsaan Moore, the probable starter, and walk-on transfer Jeff Hernandez. Also coming into the program is much-hyped freshman Tyler Cierski, who will challenge Moore for the starting spot. Regardless, Maryland lost a lot of starting experience at the fullback position from the departures of Watson and Brown.
While Lansford Watson was a candidate to compete for the starting tight end slot, his absence will not hurt the squad too much. With Matt Furstenburg, Devonte Campbell and Dave Stinebaugh, Maryland has three capable tight ends, not to mention walk-on Ryan Schlothauer, who has by all accounts exceeded expectations in his time as a Terp. The loss of Malleck might hurt, as Stinebaugh is the only tight end with more than two years of eligibility remaining, so I'm sure the coaching staff will be targeting some guys in the 2012 class to fill that void.
While Maryland's defense has a lot of issues resulting from all the transfers and early graduations, the defensive line is pretty safe from all that. Even with the departures of Derrek Drummond, Ian Davidson, and Dontez Tyler (and the possible loss of Zachariah Kerr), they're pretty set. Drummond is the only one out of those three that would have competed for playing time, but the coaches seem to have a pretty good idea of who they want up front. While the starting defensive line of Clarence Murphy, Joe Vellano, Andre Monroe, and David Mackall is extremely inexperienced (Vellano is the only one who has started any games), their backups bring a lot to the table. A.J. Francis has been a starter for the past two years (and we're still shocked he's not starting) and Justin Anderson started last year – those are your two backup defensive tackles. Off the edges, you have Bradley Johnson and Isaiah Ross, who were both big contributors off the bench last year.
Linebacker is where the biggest problems lie for the Terps. Ryan Donohue, Ben Pooler, Jimmy Stewart, and Delonte Morton have all left, leaving Maryland with next to no depth in their linebacking corps. Their starting three are as strong as ever in Kenny Tate, Demetrius Hartsfield, and Darin Drakeford, but Donohue was likely to be the first linebacker off the bench and Pooler would have been the second linebacker off the bench. Instead, the Terps have moved Lorne Goree from Will to Mike (as they had no backups up the middle), leaving them with only three scholarship backup linebackers – Desmond Kearse, Mario Rowson (who both can only play STAR) and Lorne Goree. So, that's right ladies and gents, the Maryland Terrapins only have one scholarship backup linebacker who can play either Mike or Will. Thankfully, the Terps have some freshmen coming in at linebacker in Alex Twine, Cole Farrand, and Lukas Foreman (although he might play safety), but it is unlikely that any of them will be ready to play in their first year on campus.
Maryland's linebacking corps is like the new X-Men movie – it has a lot of promise, thanks to some key performers up top and previous success, but its lack of depth (or dialogue, but we're getting a little too specific there) can be its potential downfall.
In the secondary, Maryland has some issues, but they're manageable. Travis Hawkins was a very bright prospect for the future, as was Rodman Noel (academic issues aside). Both played safety, where the Terps have a promising pair of young guys in place already in Eric Franklin and Matt Robinson. Backing up Franklin is Titus Till, another prospect for the future, but it's at strong safety where Maryland needs a little help. Behind Robinson is senior Austin Walker and junior walk-on transfer Clarence Claiborne. The Terps hope one the two incoming freshmen at safety (Undray Clark and possibly the aforementioned Foreman) can help fill that gap, but that's another position they'll look to add to in the 2012 class. At corner, the Terps are pretty set, with some experienced veterans (Cameron Chism, Trenton Hughes) and some very talented youngsters (Dexter McDougle, Avery Graham, Jeremiah Johnson) ready to take over (as McDougle has already done).
So our conclusion? Yes, Maryland has some depth issues stemming from a seemingly never-ending exodus from the program, but it's not as bad as you might think…except at linebacker, where it's far worse than you'd ever hope.